Hearing the words beach and ocean, surely that comes to your mind is
Bali
, but without us knowing much beach and sea in Indonesia that has not been touched by humans, and is still maintained continuity. Karimun Jawa, with outstanding scenic beauty, as well as sea and beaches that invite admiration, presenting nature tours is no less exciting than the paradise Bali island. Let's
travel vacation to karimun (Java) Indonesia
.
Karimun Jawa is a coastal region consisting of 27 small islands in the south of the island of Java. The beauty Karimun Jawa made This area used as nature reserves or national parks are protected by government. Many people who want to eliminate the fatigue life of the city by visiting the beautiful beaches, Karimun Jawa course could be an option that is very fitting. Tours offered special differ from other beach resort.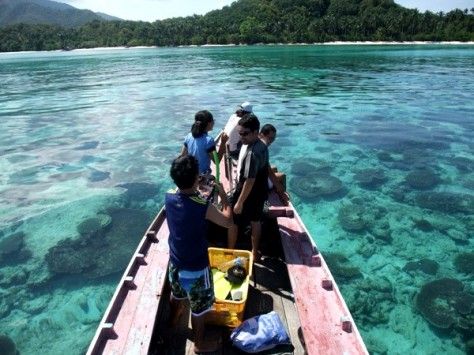 Travel Vacations to Karimun (Java) Sea
Karimun Java is suitable as a place to release stress, especially for those true adventurers, because in this place many all sea travel was very interesting to try.
Wreck Dive Karimun Jawa
For you fans of diving and has soul of aventure, it is advisable to try this one dive. various tension you'll find in an instant. When you begin your dive even be greeted by wreck has long been sinking below sea level. The atmosphere was very quiet and mysterious, iron pillars visible vessel rusted over time, and many coral reefs (soft coral) colorful exquisite struggling to live and grow steadily.
Even more interesting, besides diving and conquer the challenges, you can also get knowledge history of Indonesia. It is said that a collier owned Dutch fleet sank in waters about 60 years ago. Stories are circulating mention the ship sank because the captain thought Karimun Jawa islands is coast of Semarang, Central Java. Basic beaches in Karimun Jawa relatively low making the ship aground and finally sank.

Wreck dive there are Kemojan Island, one of 27 islands located in the Karimun Jawa. Do not miss the challenge, cause it's full of challenge!
Captive shark Karimun Jawa (java)

After passing tension Kemojan wreck dive on the island, went on an adventure to sail to the island of Menjangan the present tensions will be an experience that is not less interesting. Want to know what it's dealing directly with sharks? Marine animals this one is creepy but this is very rare opportunity to be missed.

Menjangan Island has a captive sharks. It was very interesting to see the famous shark highly malignant it was in front of our eyes. Just do not even look at, for those who have the courage, try adrenaline swimming with the sharp-toothed fish. But do not worry, there are guides who will accompany you. for a moment you could be shark's friends.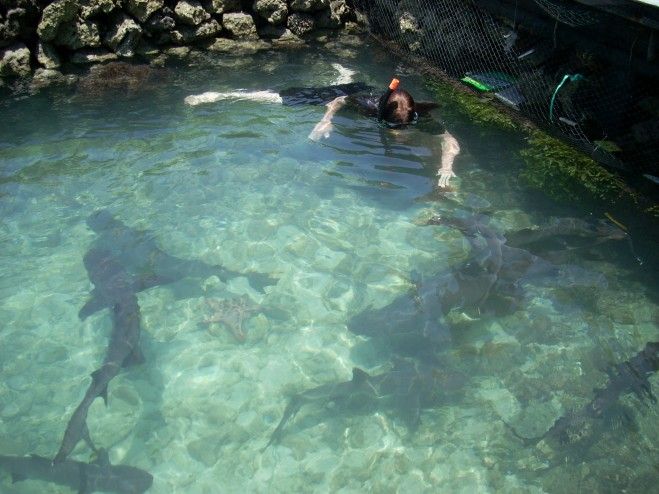 Don't Miss It!

Many other activities you can do to fill holiday in Karimun Jawa. Try it yourself!Sailing, surfing and water skiing, contained in Karimun island of Java is very much, you can choose the one island to perform a variety of water attractions. Activities such as sailing, surfing and water skiing fit for the try. satisfaction you get no less unpleasant than other marine attractions.
Sunbathing on the white sand, Do not rush to Miami for the sun! Enough to Karimun Jawa and you can enjoy the exposure the sun on the white sand while watching the spectacular views of the island.

Snorkling, For you lovers of the underwater world, the agenda shall be followed was snorkling at Menjangan Island neighborhood famous for its coral reefs and colorful fish that inhabit.
Program Durian Festival in January / March in Jepara
Travel vacation to Karimun Jawa
, do not forget to stop by to Jepara, especially for those of you fans of Durian. Taste this sweet and delicious fruit!
How to get there?
From Semarang, you can use a bus that would take as long as 1.5 hours.
From Jepara (Port Kartini) to Karimun Jawa, you can take a ferry / boat with long travel lesssix hours.
Transportation is only one time in a week (Monday).
Judul:

Travel Vacations to Karimun (Java)

; Ditulis oleh

Indra sip

; Rating Blog:

5

dari 5